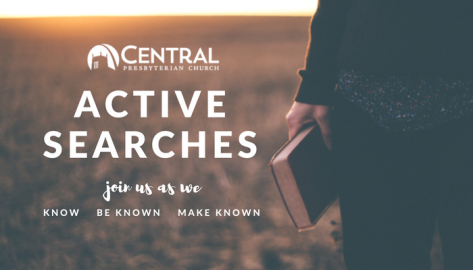 Welcome
Greetings in the name of the Lord Jesus!
This page provides information about two new positions that we are seeking to fill in the coming months: a Pastor of Congregational Care, and a Pastor or Director of Evanglism. They are strategically important to the ministry ongoing at Central, and we pray that you might be encouraged to learn more in what you find here.
My wife and I are products of Central's outreach and evangelism. We are here because Central was out in the community and inviting people like us into its family. Eleven years later, that is what Central has become to us: family. Central has been our home for the past eleven years. As part of the family, we have grown in our relationship with the Lord Jesus because of the ministry that happens in this place. The family has cared for us in times of need and struggle. The family has equipped us to be active in God's mission. We aren't a perfect family, but we are a family. We are God's family.
I am eagerly anticipating how the Lord will lead us to fill these two positions, because they will empower us to reach even more people in our community, to care more deeply for the members of our family, and to equip them to join the mission with us. Perhaps the Lord is prompting you to consider one of these positions. Please take a few minutes to watch the video below and to read the Opportunity Profile. We pray that you will follow the leading of the Holy Spirit as you consider how you might respond.
Questions? Inquire .
May the blessing of the Lord be upon your discernment,
Tim Page
Executive Administrator
Details and introductions
View or download the Opportunity Profile (PDF) for in-depth information on our congregation and organization, as well as the positions themselves.
Search Committee Members
Congregational Care
Tim Corbet - Chair
Tina Holland
Amanda Lothman
Eric Schmidt
Laura Waller
Austin Winkelman
Evangelism & Assimilation
Sara Kramer - Chair
Pete Geisz
Veeda Holmes
Deb Sommer
Catherine Stuflebaum
Steve Subracko