Sunday, November 05, 2017, 7:00 PM - 9:30 PM
Central Presbyterian Church is thrilled to host renowned Christian artists and pre-eminent modern hymn writers Keith and Kristyn Getty for the final performance of the "Facing a Task Unfinished" tour. It will be an evening of incredible music and worship with the Gettys and their band. Facing a Task Unfinished is the Gettys' latest album. The album, which champions congregational singing and mission, and follows the radical example of the hymn "Facing a Task Unfinished," is rewritten from its original 1931 version, where its urgent call propelled individuals, families, and churches to global witness.
This studio album features the Gettys' band, live congregational singing, and fresh global sounds as well as guest appearances by Ladysmith Black Mambazo, Fernando Ortega, John Patitucci, Chris Tomlin, and artists from around the world. Click here for more information on this exciting project.
About the Gettys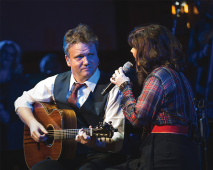 Keith and Kristyn Getty occupy a unique space in the world of music today as preeminent modern hymn writers. In re-inventing the traditional hymn form, they have created a catalogue of songs teaching Christian doctrine and crossing the genres of traditional, classical, folk, and contemporary composition which are sung the world over. "In Christ Alone" (penned by Keith and long-time writing partner, Stuart Townend) holds the #1 position of most-frequently-sung in UK churches for the past 9 consecutive years. [more]
Serve
It is expected we will be blessed with a sell-out crowd for this concert. In order to host that many people well, including many who may be making their first visit ever to Central, a large contingent of volunteers is needed. There is a wide variety of positions to fill. Please complete the form below and let us know if you're interested in helping. We will follow-up with you with more information on the various opportunities to serve.
Tickets
Ticket prices are:
VIP $50
General Admission $25
$15 children grade 5 and under
To purchase tickets online click the button below, or call 1-800-838-3006.
SaveSave
SaveSave
SaveSave
SaveSave
SaveSave
SaveSave
SaveSave
SaveSave
SaveSave
SaveSave
SaveSave
SaveSave