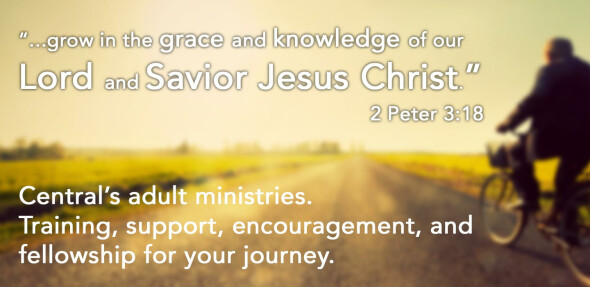 Central offers a wide variety of opportunities for men, women, and couples to grow in their faith through classes, Bible studies, small groups, service opportunities, and much more. The gospel-centered communities of Central provide you an opportunity to "know and be known" as you grow in the grace and knowledge of our Lord and Savior Jesus Christ.
Get connected through a Sunday morning community
Women's Ministry
Specific opportunities for women to have fellowship and grow together with other women, sometimes based on the same season of life challenges, and some that encourage relationship across the generations abound at Central, and we invite you to join us. There are numerous opportunities even for those with busy schedules or who might have childcare needs. For more information, please call us at 314-727-2777, or visit our contact us page.
Tuesdays
Women in Ministry offers a complete program for women, with opportunities for Bible study, prayer, fellowship, encouragement, discipleship, and service in and out of the church available. View the schedule and details here.
Wednesdays
On Wednesday evenings, Central offers both a women's Bible study as well as a single moms community. You can learn more here.
Thursdays
The Thursday morning format includes both a large group time of prayer and devotional, followed by small group studies. You can learn about current opportunities here.
Fridays
End the work week by studying God's Word with other women as part of the Friday morning women's group.
Men's Ministry
Men's ministry at Central delivers opportunities for men to build authentic and personal relationships with Jesus Christ and form Christian bonds with one another to equip, encourage, and prepare men to serve in their mission fields at work and their homes. For more information contact Mike Farley.
SaveSave
SaveSave
SaveSave