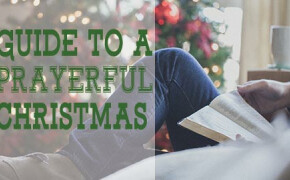 To download a copy of the Advent Prayer Guide, please click here or on the "Notes" link above
The season of Advent and Christmas is a hectic time. Shopping, parties, baking, decorating, and gifts (did I mention shopping?) too easily crowd out worship of the Prince of Peace. To help us maintain our spiritual focus during this season, Central is providing a guide for morning and evening prayer. Each day, the guide furnishes a brief order of prayer that follows the biblical worship pattern of praise, confession, instruction from Scripture, petition, and blessing.
This ancient Christian rhythm of daily prayer helps us spiritually by structuring our time and our prayers according to the word of God. It frames each day in worship so that we learn how to pray without ceasing (1 Thess. 5:17), and by following the order of Sunday worship each day, the rhythms of Sunday echo throughout the whole week. The prayer guide also teaches us to pray with and from the word of God by giving us structure and language for prayer. In addition to psalms for each day, the prayers and readings relate to the Sunday sermon theme and amplify its effect through our daily meditation and prayer.
Morning and evening prayer helps us as individuals, as families and friends, and as a whole church. The guide gives our individual prayers variety and helps us avoid boredom by praying the same old things for the same old things. It also unites our individual voices to pray as one body in common prayer. To help families include children in worship, the prayer guide offers readings from several children's Bible story books as well as a book of family devotions about stories of Jesus' coming and birth from the Gospels.
If you have never used a prayer guide before, try it just in the morning or evening before attempting both times per day. To engage more of your senses, you might light the candles of an Advent wreath to set apart the time of prayer with a visual symbol that marks the progress of the season and the coming of the light of Christ and his kingdom into the world. If you have questions or would like assistance in using the prayer guide, please contact me. May the Prince of Peace unite us in common prayer to make this Christmas not a season of stress but a season of worship.