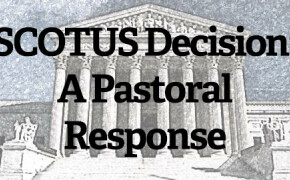 Greetings church!
I write this letter in an attempt to bring comfort and perspective to those of us in the Christian community who are wrestling with what constitutes a godly response to the recent U.S. Supreme Court decision to legalize same-sex marriage.
OUR TRUTH
With unwavering conviction we continue to affirm the historic, orthodox Christian teaching that marriage is a sacred covenant relationship between a man and a woman that unites them as one flesh (Gen. 2:24) and serves as a model of the sacred bond of love and loyalty between Christ the Bridegroom and His bride, the church (Eph. 5:25-32). This biblical truth is clear, unchanging, and uncompromising. It is established by the One who reigns supreme in His heavenly court regardless of pronouncements of any earthly court.
There is also a cultural truth that we must painfully acknowledge and it is simply this - the biblical view of marriage (and a host of other moral issues) is increasingly a minority view This may cause some to respond in denial or anger, but it should come as no surprise to students of Scripture and church history. Scripture calls us to responsible citizenship, the payment of taxes, praying for our leaders, and submission to lawful authority (Mark 12:13-17; I Tim. 2:1-2; Romans 13:1-7). The same Scripture reminds us that our real and lasting citizenship is in heaven and that we are sojourners and pilgrims here on earth (Phil. 3:20; I Peter 2:11). The Supreme Court's decision should serve to remind us to faithfully engage as temporal American citizens as we joyfully celebrate our eternal heavenly citizenship.
A third truth is simply this: Jesus reigns! Every Sunday morning as a congregation we proclaim: "Christ is risen. He is risen indeed!" Do we really believe that? One of the bedrock convictions of our Reformed heritage is the absolute sovereignty of God: the Lord reigns (Psalm 97:1); and God sits enthroned in heaven (Psalm 9:7-8). May I suggest that when the SCOTUS decision gives you a migraine, pop the aspirin of Psalm 2 to relieve your pain.
A fourth truth is that Central and the Evangelical Presbyterian Church have clearly stated our biblical conviction regarding marriage and will not change either our conviction or our practice in upholding the biblical standard. We are very blessed as a congregation to have elders and leaders with legal expertise in these kinds of issues. In partnership with them, we are taking a range of steps that will protect Central so that our ability to share the Gospel in its full biblical truth will continue to be uncompromised and unencumbered. Feel free to contact Tim Page, our Executive Administrator, if you would like to learn more about that or if you would like to help.
OUR TONE
Have you ever noticed in an argument that when we are angry our tone changes, along with our facial features and body language? The unbelieving world often sees our anger and this greatly compromises our witness. When Jesus was angry it was directed toward religious hypocrites, but in dealing with people engaged in sexual sin He demonstrated supernatural compassion and gentleness (John 4:1-26; John 8:1-11; Luke 7:36-50). If ever there was a need for us to be "high grace – high truth" now is such a time. The same sex marriage debate offers us an opportunity to engage others with respect, hospitality, and friendship rather than rejection, ridicule, and contempt.
OUR TRUST
God is our refuge and strength, a very present help in trouble. Therefore we will not fear though the earth gives way, though the mountains be moved into the heart of the sea, though its waters roar and foam, though the mountains tremble at its swelling. There is a river whose streams make glad the city of God, the holy habitation of the Most High. God is in the midst of her when morning dawns. The nations rage, the kingdoms totter; He utters His voice, the earth melts. The Lord of hosts is with us; the God of Jacob is our fortress. (Psalm 46:1-7)
Though the fig tree should not blossom, nor fruit be on the vines, the produce of the olive fail and the fields yield no food, the flock be cut off from the field and there be no herd in the stalls, yet I will rejoice in the LORD; I will take joy in the God of my salvation. God, the LORD, is my strength; He makes my feet like the deer's; He makes me tread on my high places. (Habakkuk 3:17-19)
The Supreme Court decision presents an opportunity for the church to be the church! This is not a time to retreat, nor is it a time to inflame. This is a God-ordained opportunity for the Gospel to be lifted up with loving compassion so that the world around us might be drawn to it. Friends, events like these often put a spotlight on our intrinsic need for the Gospel. Now is a perfect time to invite that friend or neighbor to Central that they might experience for themselves the joy and peace that come from Jesus, and only Jesus. What better time to do so than with our summer Sunday brunches?
If our trust is in men or women, courts, political edicts, or economic prosperity, we are trusting in idols rather than the One who alone can bring us life, joy, and security. The faith of the church grows in the soil of adversity. This is a time for prayer, not panic; for compassion not contempt; for unwavering conviction not unloving rejection. We need and value your prayers. We need and value your financial faithfulness. We need and value you as you engage in the life, ministry, and mission of Central Presbyterian Church. We will not curse the darkness, but by God's grace and supernatural Spirit, we will live and shine the light of the glory of the gospel in Clayton and beyond. May it be so.
Yours in Christ,
­

Bob Hopper
Interim Senior Pastor