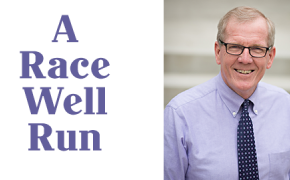 I have fought the good fight, I have finished the race, I have kept the faith. Henceforth there is laid up for me the crown of righteousness, which the Lord, the righteous judge, will award to me on that day, and not only to me but also to all who have loved his appearing.
2 Timothy 4:6-8
Dear Friends,

It is with great sadness that we share with you that beloved former Interim Senior Pastor, Bob Hopper, passed away Monday evening in Bay Village, Ohio. Bob had been serving as the Transitional Senior Pastor at Bay Presbyterian Church since leaving Central.
Bob left an indelible mark upon Central and we are forever grateful for how the Lord blessed our congregation through Bob. Whether it was loving and leading with high truth and high grace or sharing a "free cup of coffee" with us, Bob's love of the Lord and the gospel were infectious, and set a beautiful example for us all to follow. Pastor Hopper often reminded us that he was neither a prophet nor the son of a prophet, but there was little doubt he was truly an ambassador for God by powerfully and faithfully communicating the gospel of Jesus Christ to his people.
In 2014, just as his ministry at Central was beginning, Bob shared some thoughts on friendship from Ecclesiastes 4:10, which reads: "For if they fall, one will lift up his fellow. But woe to him who is alone when he falls and has not another to lift him up!" Bob wrote:
"The text reminds us that life is not easy (we ALL fall down) but when our time of great need arises our friends will be with us."
In this way, Bob was indeed a beautiful friend to Central. He ministered to us all in a time of great need, and did so with grace, love, and truth. Please join us as we give heartfelt thanks for our dear friend, and as we pray for the Lord's comfort and mercy upon Bob's lovely wife Tacey, and his children Jessie, Seth, and Luke and their families.

As details become available about the various events to celebrate Bob's life and ministry, we will share them promptly with you. In the meantime, continue to pray for Tacey and the family as we grieve with hope. The "view" from his new "home" is undoubtedly glorious.

Pastor Clay
Pastor Hopper's memorial service will be held at 4pm on Sunday, June 18, 2017 at North Park Evangelical Presbyterian Church, 600 Ingomar Rd, Wexford, PA 15090. The Rev. Dan Henley, Rev. Dr. Rodger Woodworth, and Bruce Allison will be conducting the celebration.