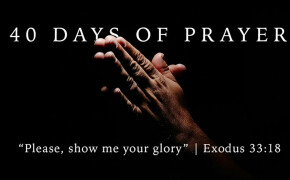 An invitation to you to join Central in 40 days of prayer
Dear Central,
Central Presbyterian Church has always been blessed to have many faithful groups of people who pray for the church regularly. Some have been doing so for decades! Nonetheless, there have been special times when some have felt compelled to seek the Lord's face for a season in order to pray that his kingdom would be realized more fully among us.
As we entered this time of transition, many approached me indicating a deep yearning to pray together as a church and for the church. Personally, I am convinced that this is a pivotal time for Central. We have quite a legacy, and yet so often our mightiest gifts can also be our greatest liabilities. We can drift into institutional pride, corporate complacency, fearful self-preservation, and focus more on ourselves than what God wants to accomplish through us. Even though we are without a senior pastor at this time, we know that Jesus is our true King and Shepherd, and he calls us to follow him in his mission to renew all of creation. We have much to pray for: a new pastor, the many ministries of the church, financial stability, our families, the building project...the list could go on and on. We want to pray for those things, but more importantly we want to seek first his kingdom, knowing that when we do, all these other things will be added unto us (Matthew 6:33).
With that in mind, I want to encourage and implore you to join us once again as we engage in 40 Days of Prayer. The main focus of our prayer together will be for God's kingdom, that he would pour out his Spirit on us and renew us as a body. Renewal has a long history in the Bible and in the history of the church. It is a work of God's Spirit, but it always seems to flourish when his people respond to his call to seek his face in repentance and prayer. You will recall that during Advent we called you to Share the Light. There are three aspects to this: prayer, giving, and inviting. We focused on the giving aspect, and you responded vigorously and generously. Now, however, we want to focus on the prayer aspect. This focus consists of three things:
Our Lenten sermon series will focus on spiritual renewal.
We will invite you to join us for corporate prayer at specific times and places during the week.
We will invite you to sign up for a daily devotional to help guide your prayers for renewal in our church.
"How do I get involved?" you may ask. Simple. Sign up to receive the daily devotional by email by visiting www.centralpres.com/40days. You will also be able to enjoy each day's devotional material by using that same link. I also encourage you to show up at one of the designated prayer times to join your church family in seeking the Lord's face and favor for his church. We will meet at 6:30 p.m. on Wednesday evenings in the Prayer Room, and again Sunday mornings at 8:30. That's it! I give all praise to God for his work in and through this church.
Yours in the Lamb,
Eric Stiller