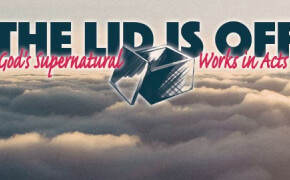 We love the excitement and thrills of a great adventure story. They are even better when there's an element of the supernatural mixed in. From classics like The Lord of the Rings to the Chronicles of Narnia, to the latest Marvel Comics box office hit, stories like this capture our imaginations and hearts. Though there's peril at every turn, we also know eventually good will prevail and evil will be defeated.
The unexpected. The improbable. The inexplainable. We love these moments, don't we? We love it when the lid on our box of expectations is ripped off and the unexpected takes over.
This summer, we hope you will join us as we study one of the greatest supernatural adventures of all time. In the time of the ancient Roman empire, a son of a carpenter has just been crucified. A few of his close friends thought that he might have been someone special, a hero to lead them, but now? Now they were alone, and unsure of what was to come next.
You know where the story goes from here. Jesus rises from the dead and ascends into heaven. The Holy Spirit fills his timid followers with power and courage in unbelievable ways. A tiny, mustard seed of an idea was transformed into a worldwide movement. Against all odds, Christianity spread across the globe. It should not have happened, but it did.
Beginning this week, Pastor Hopper will lead us through an extended sermon series on the Book of Acts. Sometimes called the "Acts of the Apostles," perhaps a more accurate name would be the "Supernatural Acts of God Through the Apostles" because it is filled with stories where God rips the lid off the box and reaches down into humanity through his supernatural power. Acts may lack a "giant green rage monster," but is filled with angels, miraculous wind and fire, the dead rising, wondrous healing, earthquakes, and the superhuman courage of a handful of people who believed enough to risk all.
"Acts: The Lid Is Off" begins next week, and you are invited into this adventure with us!