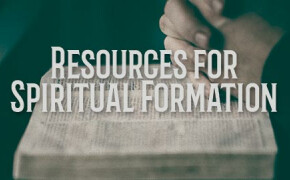 As Central's pastor of spiritual formation, one of my greatest joys is providing the church with resources that can help us navigate the difficult challenges of living the Christian life with truth and grace. So I am delighted to announce that Central now offers two new tools to equip us to grow in our relationship with Christ.
The first is a daily prayer guide. During the Advent/Christmas season, I prepared a guide for morning and evening prayer, and many people found it a helpful tool. Jennifer Mazzoni writes: "I have been so blessed by the daily readings. This routine has really had a positive influence my heart during this typically hectic season. Matt and I have enjoyed praying more intentionally, and even the kids have participated in a positive way. . . .God is using this tool for his glory!
The daily prayer guides will now be offered every week in an electronic format. You can receive the guides by subscribing to the mailing list at http://www.centralpres.com/prayer-guides. When you sign up, you will receive the prayer guide materials for the current week as well as a short introductory email that furnishes a brief user's manual with instructions and resources for using the guide most productively. Each Sunday afternoon, you will receive an email containing the prayer guide for the new week. The guide contains Psalms, songs, and other scripture readings and prayers that relate to the theme of the Sunday sermon and amplify the effect of corporate worship on Sunday as it echoes throughout our daily meditation and prayer.
The second resource is RightNow Media (https://www.rightnow.org/Library/), a library of streaming video resources for Christians. It is like a Christian Netflix featuring some of the country's best Christian teachers and preachers, and it offers educational resources for children, youth, and adults on a wide array of topics including Bible study, theology, spiritual growth, finance, marriage and parenting, apologetics, work, missions, teaching illustrations and training, and much more. There is also a link titled "Central Presbyterian Church" in the library menu where you will find resources on topics recommended by Central's ministry staff on topics such as the current sermon series and various classes and ministries of Central.
Central members are already beginning to explore the library and find it exciting and enriching. Jeanne Kuhlman writes: "What a wonderful experience to view RightNow Media! I have added the app to my iPhone and it makes it very convenient to research and see what is new. Of course, just learning to navigate is fun and an adventure in itself. I have found it a wonderful resource to view Bible study books and support media . . . I am appreciative of the church for providing the availability of such a resource."
Like other video services, RightNow Media can be streamed to a computer through a web browser, to an app for tablets and phones with the Android or Apple iOS operating systems, or to your TV through the Roku or AppleTV system. Our church has subscribed to this library so that we can offer it free of charge to all of our church members, regular attenders, and their family and friends. All adult church members whose email address appears in Central's current membership directory received an email invitation from RightNow Media on Sunday, January 24 to provide access to our church's account. If you would like free access to this video library and have not yet received an email invitation, please contact Pastor Mike Farley to be added to our church's account.
If you find these resources helpful, if you have any questions about them, or if you would like to share a story about how the Lord has used these resources in your life, please contact Pastor Mike Farley ( ; 314-630-5702). May the Lord use these resources to help us all walk with him and serve him faithfully.