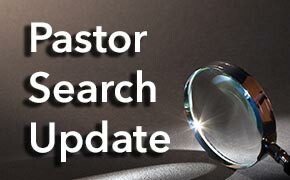 Pastor Bob Hopper, having considerable experience as an interim pastor and leading congregations through times of transition, has been engaged by Central Presbyterian to serve as a pastoral consultant.
In the months since its formation, the pastoral search committee has prayerfully sought to understand the Lord's will for Central. As it became apparent the search for our next senior pastor will likely take some time to complete, the session announced in December its intent to search for an interim pastor for Central. This search is underway, with the Personnel Committee leading the process with the intent of having an interim pastor in place by summer of 2014.
A unique opportunity has emerged that will provide important assistance to Central in the period between now and this summer. Our Stated Clerk, Jeff Jeremiah, recommended Pastor Bob Hopper to Central as a pastor with particular experience leading churches through change. He perceived Bob's gifts and recent experience might provide unique value to Central. As the Personnel Committee interviewed Bob and explored how he might fit with Central, it became clear he could provide substantive value to us in the time between now and when the longer-term interim is retained.
We are pleased to report that on Monday January 27, your Session unanimously approved a recommendation from the Personnel Committee to hire Pastor Bob Hopper (Bob) as a pastoral consultant to Central. Bob has unique experience in helping churches manage change, and we pray that he will be a key part of helping Central to move forward in the coming months. We want to share with you two aspects of this important decision.

Scope of Work
As Central searches for our next pastor, the Session and Search Committee are seeking to comprehensively understand "who we are" and "where we are going." Bob will be spending meaningful time with elders, staff, and lay leaders to help us answer these questions and make recommendations to the Session on how we can grow stronger for the Lord's work. Bob comes highly recommended and has provided similar consultation to other churches, most recently Eastminster Presbyterian in Wichita.
Background Information
Bob is an ordained pastor in the Evangelical Presbyterian Church. In recent years he has helped lead three churches through times of change, and comes to Central with outstanding recommendations. Bob is also a gifted preacher of God's word. During the interview process the Personnel Committee spent time listening to Bob's sermons on-line and felt deep gospel-resonance in the way the Lord uses Bob to point hearts and minds to the hope that we have in Christ. Bob will preach occasionally at Central, complementing Eric Stiller and collaborating with him on future messages. Please continue to pray with us in the weeks and months ahead, that we would continue to yield to the Lord's merciful leading and wisdom.