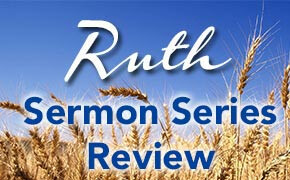 Sharing the Light is not just a campaign or a season. It is God's call on our lives.
While Christmas celebrates the arrival of Jesus Christ once into the world, Advent is all about our waiting and longing for a King to come once again and set the world to rights. This made Ruth a fitting book to study, since it shows us what God is doing about a world that is falling apart. Set in "the days when the judges ruled," Ruth takes place at a time in Israel's history of alarming decay in every area: social, spiritual, moral, political. There was no king in those days to set things right.
Ruth begins the story of how Israel got its first king, David. In so doing, it points us to the ultimate King, Jesus, who came once and will come again to renew and restore the whole world from decay. As we think about the story of Ruth and consider how the things we've learned apply to Central, three themes in particular emerge.
First, you can never separate what God is doing in your life from what God is doing in the whole world. Ruth shows us what God is doing about a world that is falling apart: he's sending a king. But it does so by showing us what he did about a poor widow named Naomi whose life had fallen apart. It was through his actions in her life that he was also acting in history.
Second, we saw the overwhelming power of hesed, which is God's unstoppable love. The ultimate power for transforming the world, and our lives, is God's hesed love, a love that whispers, sows, risks, redeems, and restores. And the ultimate expression of hesed is the gospel of Christ's death and resurrection.
Third, God does extraordinary things with ordinary people who are willing to be vehicles of hesed. When we realize that our lives are part of God's story, and when we embrace his love for us through the gospel of Christ, we become vehicles of that same love in the world around us. God's love invites us to take an active role in the story of which we're a part.
These themes mean a lot for us now at Central. We may struggle to understand the change we're going through, and we may not always see what God is doing in the midst of it. But when we know that God's story is moving forward, that his hesed love is at work, and that he is inviting us to participate in that story, it empowers us to embrace our part in the story, even if we can't see how it's all going to turn out. Even as we finish this month's Share The Light campaign, the call to action remains constant for us. We pray for each other and for the gospel to go forward in our city, our nation, and our world. In fact, we will have opportunities for you to do this more specifically in the next few weeks. We also reach out to our friends, neighbors, family, and co-workers, and invite them to find their place in God's story as well. And finally, we give sacrificially of ourselves, using our work, our homes, our families, our relationships, and our resources as we embody God's hesed to a world that's falling apart, and longing desperately for the one and only King who can truly set things right. I want to thank you for the ways you've participated in this effort over the past month. But even more, I want to exhort us all to continue living lives of hesed love as we labor together for the sake of the gospel. Sharing the Light is not just a campaign or a season. It is God's call on our lives.