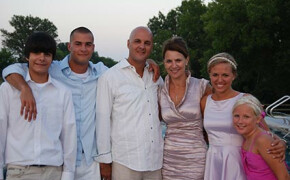 How a simple invitation changed a life...
It's just a job.
That's what I thought that first Sunday I walked up to the corner of Hanley and Davis to act as the crossing guard for Central. But sixteen years later, I've learned our God is so amazing, he can take even a jaded thought like that and turn it into a relationship that changes your life and lasts for eternity.
Each week, I would stand on my corner, encountering many friendly, and soon, familiar faces.They would ask how I was, bring me hot chocolate and invite me, always invite me, to come INTO the church for services. I would say "thanks", or "maybe sometime," but inside I was thinking, "no way." I had been adopted at an early age and brought up in the church, but a divorce and then the unexpected deaths of both my mom and my little brother had left me adrift. I would see everyone leaving church each Sunday, smiling, being with their families and wonder, "Why not me?" That voice inside was so loud, I guess that's why I couldn't hear the invitations that came almost weekly.
But one Sunday, for some reason, I decided to finally accept the invitations, sort of, and just go in. Before I knew it, it became a habit to turn down my police radio each week, follow the last person in and sit in that back row, listening.
Many months later, after everyone was already inside one morning, instead of going in, I paused and looked at the church from my corner post. It was then I realized that in front of me, all this time, was what I had been searching for; that this church, this family, God's family, was what I was missing. Being adopted, losing my marriage and then my mom and brother's deaths had left me completely untethered. I had no family. Until I realized God wanted me in HIS family.
Once I let go and just 'let God', my life literally changed. The many negative aspects of police work didn't get to me as much but rather a sense of peace invaded my soul. My longing for a life partner was fulfilled when during one of my crossing guard shifts I met Kate, now wife of three years (that's a great "God" story too). I have a new career where the opportunities to live my faith abound. And recently, I became a deacon and find my time serving blesses me beyond understanding.
I can't logically explain the peace I now feel, but of one thing I am completely certain; NONE of this would have happened if I hadn't been INVITED in by so many of you. So the next time you stop short of inviting someone because you've asked before, or think someone else has probably already asked, or you feel they wouldn't "appreciate" it, do it anyway! God is putting that on your heart for a good reason. I am a living testimony to truth that God will use YOUR invitation to win hearts to HIM. Share the Light this season and invite someone to Central. God will do the rest!