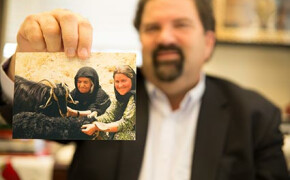 An American Christian missionary requesting to rent the government amphitheater in the virtually all-Muslim town of Erbil, Iraq for a concert?
My grandmother gave me my first guitar, a handmade Martin, when I was nine. That same day she wrote in my Bible, "We believe God is going to use you to be a singing evangelist." I don't know if her words or the extravagant gift surprised me more. But I still play that guitar. And Grandma's words remain a touchstone in my life, that if you make yourself and the gifts you've been given available to God, He WILL use you.
However, as I found my brief meeting with the Iraqi Minister of Culture coming to a close, I wondered how God was going to use my gifts in this situation, when the answer to my request was sure to be a "no."
"Thank you, Mr. Mayfield. We'll be in touch." Or better known as "Thanks, but no thanks."
It was a long shot anyway. An American Christian missionary requesting to rent the government amphitheater in the virtually all-Muslim town of Erbil, Iraq for a concert was nuts. I shook the minister's hand and, as a token of thanks, left him a CD of some classical music I had recorded.
I stepped back into the intense Iraqi heat, still smarting over the apparent rejection. The concert would have been a phenomenal opportunity to share the gospel with over 1,000 Iraqi Muslims. But since all things Christian are considered inferior in Iraq, we knew we were already blessed to be allowed to minister to Iraqi widows and children by giving them goats. The goat's milk was daily sustenance and the offspring were sold for income. Hundreds of lives were being instantly changed for the better. But still, the concert would have been huge.
I was sitting in my hotel room the next day when the phone rang. It was the Iraqi minister. "Mr. Mayfield, I have so enjoyed your CD. We would like to invite you to play a concert, and many of my friends in the government will come, too. I will also waive the normal rental fee of $2,000. Please just play for us."
The rest was a whirlwind. Rehearsals with an all-Muslim orchestra and conversations and interactions with countless Iraqis to create and promote the concert made our lives a living testimony for Christ. God used it all. Then, the day of the concert it was 115 degrees outside and 65 degrees inside. For a singer, devastating. My throat clamped shut and nothing would come out.
Backstage, I prayed, "OK God, here I am. My gifts are here for your use. Humble me. Use me."
From Bach's "Jesu, Joy" to the last measure of "Amazing Grace," I hit every note. I ended with my testimony, the government officials in tears.
I walked off stage and, as before the concert, my throat seized up and I couldn't speak a word. But words weren't necessary. God had made a way.
You don't have to be a musician, or a preacher, or teacher to be used by God. You just have to be available. A plumber friend is being used all over the world to bless people by providing access to clean water! Whatever you have, your talent, your time, your treasure; make it available to God to use for his purposes. Share your gifts. Share your light. And God will use you mightily.