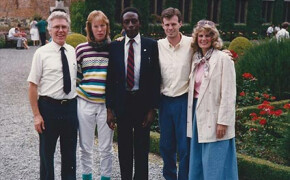 God's generosity towards us is so huge! Say "YES" to what he may be asking of you and experience his abundant joy and peace as a result!
You might not believe this, but there are actually Pizza Huts in Brussels, Belgium. In fact, we used to have lunch there every Sunday! But what you may find even more surprising is that God used a Nigerian refugee at an American Pizza Hut in Brussels, Belgium to teach Bill and me an amazing lesson about giving.
It was 1989 and Bill's job at Monsanto required us to spend about three months in Belgium. While there, we found an English-speaking church that really felt like home. Although it was an hour from our rented flat, we didn't mind the drive. We loved meeting all the different people God had drawn to this little church, and on any given Sunday you would hear French, German, Spanish - and this one Sunday - even Nigerian being spoken.
Of course, neither Bill nor I speak Nigerian, but the Nigerian man (who also spoke English) was a refugee who had been forced by the government to escape Nigeria. We felt compelled to invite him to join us for lunch, and it was over pepperoni slices and Pepsi that we learned his family remained in Nigeria and was in great danger. Bill and I were just so moved by his plight but had no idea how we could help.
Together we prayed with him, and then Bill and I continued praying throughout the week. That's when the Lord really started working on our hearts. We had recently begun tithing at Central and had thought that was "enough." But now, we both felt God was asking us to do more. Specifically, we felt the Lord was calling us to help this man rescue his family. We were scared, because it would be a lot of money, but we were also truly exhilarated every time we thought about being able to do something so big.
So the next Sunday, we again asked our friend to join us for pizza and told him that we were going to give him the money he needed to get his family out of Nigeria. He cried. We cried. And though he tried to refuse our gift, we insisted, knowing it was God's will.
It's here where we wish we could tell you everything worked out just fine. But the truth is, we never really got confirmation his family made it out of Nigeria. And while we still pray that all went well, we are so thankful that we listened to God and responded obediently. In the decades since that experience, we have strived to listen and obey God's will for our resources and the result is ALWAYS a sense of joy and peace beyond our understanding.
Through a Nigerian refugee, God showed us that he blesses each of us, and that we are called and blessed beyond what we can hope for or imagine when we share those blessings…sometimes even when we can't see the outcome.
During this season when we all are praying and thinking about how God wants us to 'Share the Light,' we want to challenge ourselves and those around us to think beyond what we might have thought was "enough." God's generosity towards us is so huge! Say "YES" to what he may be asking of you and experience his abundant joy and peace as a result!