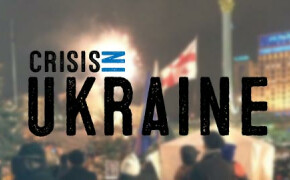 The political and economic unrest in Ukraine has turned bloody. Many people in eastern Ukraine have been forced to flee their homes and seek refuge in the west. One of our sister churches in Donestk has been greatly impacted. Many of these brothers and sisters in Christ are coming to Kiev, and Central's missionaries Igor and Lena are reaching out to help as many as possible.
Please note: the following information was collected through a series of emails with Central's missionaries in Ukraine, Igor & Lena Yaremchuck.
The situation in Ukraine remains unstable, with the war in the eastern part of the country continuing. Many people are having to flee the east to seek refuge in the west.
Currently, Central missionaries Igor and Lena Yaremchuck are helping five families with housing and living expenses in Kiev. They are also hoping to help sponsor a Christian children's camp near Kiev for some 180 people from the Donetsk and Lugansk regions. Of the 180, 120 are children and 60 are mothers (17 are currently pregnant).
The cost of the camp is $5,000 per week. Ideally, the refugees will be able to stay at the camp until the end of September should the conflict continue. It is a summer camp, so they would be unable to stay beyond that time. There is also great need for repairs to homes and churches that have been damaged during this ordeal.
Igor and Lena have borrowed money from the local seminary's general budget, and when a contingency from the U.S. arrives soon, they will be bringing funds from Igor's missionary organization, e3 Partners, to reimburse the seminary. Additionally, Central Missions sent money from a special emergency fund in early June to provide some immediate support.
At last week's worship services, a special appeal was made to Central's members and guests for their support of our brothers and sisters in Ukraine. To date, nearly $15,000 has been raised (THANK YOU!), but your help is still needed:
Please pray for the people of Ukraine, in particular those who have had to flee from their homes, and for Igor, Lena, and others like them who are doing all they can to help.
Consider a financial gift.

You can send checks of any amount to Central Presbyterian Church, attention: Missions, 7700 Davis Drive, Clayton, MO 63105. Please be sure to write "Ukraine Relief" on the memo line of your check.
You can also give online. Again, please designate your gift for Ukraine Relief by selecting this option in the drop down window on the giving portal.