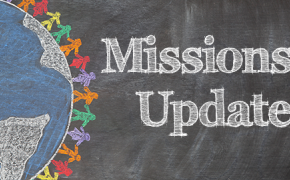 Update from Pastor Randy Mayfield on his recent trip to the Middle East

Our Student Ministry Director, Andrew Dickson, with Central missionaries Jamal and Igor, joined me for a busy ten days in Iraq. We began ministering at a training center for refugees from the nearby camps in Erbil, Iraq. Here, they were able to acquire skills such as English, music, sewing, and hair styling. These skills give the refugees dignity and a chance to earn a living. They also all leave with the tools needed for their new trade, such as sewing machines, clippers, and instruments.
The resiliency of the local people is amazing. We had lunch in the home of an immigrant family who had just seen pictures of the devastation their village near Mosul had sustained, and they were understandably depressed by what they saw. Yet, by the time we left they were smiling and praising God for his goodness in spite of their hardships.
Later, I was able to sing at an ecumenical gathering celebrating 71 years of freedom for the Jews in Iraq. Gathered with us were members of the Catholic, evangelical, Jewish, Muslim, Zoastrian, Yazidi and other minority faiths as well as the Deputy Ambassador of the US.
We next traveled near the border of Mosul where the battle with ISIS continues. We met with members of the military and brought them food, blankets, and Bibles.
We went to Amman, Jordan for the final four days of the trip. We were able to meet and encourage many of the local saints.
Later, we visited a Syrian school north of Amman, meeting more than 100 kids and teachers there. We handed out "Christmas" gifts to the mostly Muslim students. Next, we visited a Syrian refugee camp where we had tea and coffee with a shepherd and his family in their tent. We shared the gospel message with them answered their questions about Jesus. Our last stop in the village was in the home of a Muslim-background believer. Also present were a couple of ladies who had the desire to learn more about Jesus. One Muslim woman prayed to receive Christ in the living room, while in the dining room, Igor led a Ukrainian lady married to a Jordanian man to Jesus as well! We also had the joy of baptizing several other new believers. It was incredible to see what God is doing in this region!