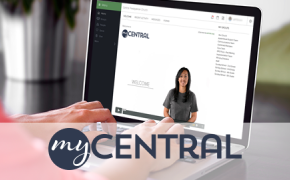 Connecting to Community
"I'd like to find a Bible study that meets on Tuesdays and offers childcare, but don't know where to start." "What was the last name of that person I sat next to in Sunday school last week?" "What opportunities are there to serve at the church that fit my talents and gifts?"
Finding your fit, staying informed, and making connections can be difficult, especially in a church the size of Central. As you probably know by now, after extensive research we invested in a new web-based resource to help with these and similar issues. Called "myCentral," the new resource was launched in January of this year, and the response has been overwhelmingly positive!
myCentral is not another form of social media, as it does not allow for personal broadcasting, and there are no blogs, posts, likes, or tweets. Instead, it is a new opportunity for our church to stay informed, help us grow, and keep us connected with one another. It's a way to find volunteer opportunities, meet needs, check out upcoming church events, register for classes, see your personalized church calendar, track your giving, and more. Perhaps best of all, it is easy to learn, and whether you choose to use it a lot or a little, it can be a great resource.
Logging On
If you are a member or regular attendee, you have most likely already received an email invitation to myCentral. We hope you have followed the links in that email to begin using myCentral. If you haven't yet logged on and need assistance, please contact us today and we will be happy to help.
Once you log on, just a few of the many things you will be able to do include: control all personal privacy and communication settings, view your giving history, print statements, interact with people in the church, search for and join groups, sync the church calendar with iCal, Outlook, or Google, and much more.
Click the button below to download a copy of the myCentral Getting Started Guide. This document will walk you through step-by-step how to start using this exciting new system.
Getting Help
myCentral is intuitive and very easy to use, but we know anything new can present some challenges. We want you to have a positive myCentral experience and enjoy the many benefits it offers. On Sunday mornings, you are invited to stop by the Help and Support station in the Fellowship Hall between services, or email us at .