Join God's Mission at Central Today
Online giving allows you to set up an automatic, recurring contribution or a one-time gift. There are several payment options including ACH. It's fast, easy, and secure. Please note, we strongly discourage giving through credit cards if you will incur debt in the process.
Do You Need Assistance Moving Your Recurring Gift? A member of the Central Business Office staff will be happy to assist you in moving your recurring gift to the new system. Please contact us for assistance
Checks, EFT, and Non-cash Gifts
We can help you set up convenient ACH or EFT transactions directly from your bank account. We can also help you make a donation of non-cash items, such as stocks or mutual funds. Please contact us for assistance
2018 Kingdom Challenge
2018 Kingdom Challenge from Central Presbyterian Church on Vimeo.
2019 Pledge
Financial planning is important work for all of us. In your personal lives, you base your spending on the income you anticipate coming in. We do that at the church, too. And your annual pledge helps us to plan wisely.
How should you decide how much to pledge?
At Central, we believe that the Bible is the hold word of God. In it, we find God's song of salvation. We also find his good guidance for all of life, including our finances. He makes three things very clear to us:
All that we have – including our finances – is from God…we are simply stewarding his resources;
God calls us to return a minimum of 10% of our riches back to him and his "storehouse"; and
God tells us that we can trust him in this act of spiritual discipline.
As you pray about your pledge, we invite you to trust God in making a full 10% tithe to Central.
2017 Ministry Report
Your giving made so much possible in 2017! Check out our 2017 Ministry Report to see a few of the highlights from an amazing year.
SaveSave
SaveSave
SaveSave
SaveSave
SaveSaveSaveSave
SaveSave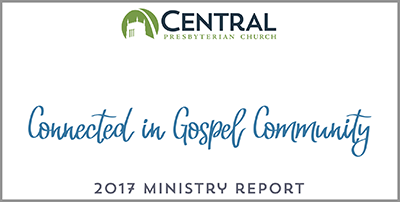 SaveSave