Academic Connections

Jim Cook
P.O. Box 270519
Louisville, CO 80027
303-665-9278

www.academicconnectionsgem.org
Jim serves as Executive Director of Academic Connections, an organization that helps create and resource an international network of Christian faculty and scholars, principally at secular institutions of higher learning.
Emmaus Correspondence School of Missouri/Set Free Ministries

9188 Eddie & Park Road
St. Louis, MO 63123
314-729-1278
Grant Gruber

Emmaus Correspondence School began in 1942 to make solid Bible teaching available to those who could not attend Emmaus Bible School in person. Courses are now available in 118 languages with over 800 distribution centers located around the world.
Set Free Ministries serves inmates in prisons and jails in Missouri and Illinois. These incarcerated students account for the majority of our enrollment, but we also serve students from the general public through our domestic ministry. Our desire is to make the Emmaus road to Bible knowledge available to everyone.

FAITH Rx'D
Faith Rx'D works to strengthen the fitness community for Christ-centered living and impact. Local chapters inspire their community through authentic relationships, competition, and enriching content such as training camps and events in cities around the world. As mature disciples of Christ, leaders serve their communities and engage and equip others.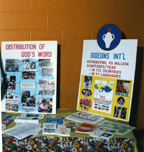 Gideons International (Creve Coeur Camp)
Gideons have a long history of successfully placing God's word around the world. They operate in 190 countries, and distribute Bibles in 90 different languages. Many Central members are among the Gideons in the U. S.

Global Grace fellowship

John Splinter

www.globalgrace.org
Global Grace Fellowship's focus is on planting churches among unreached peoples around the world. They have been preparing and sending missionaries since 1930. John's role is working with the organization's President, Larry Phillips, helping with member health, recruitment, pre-field screening and training, writing, development and more, to expand GGF's Kingdom impact dramatically in the coming years.

Student Mobilization - KSU
Alex and Anna Hrebec

www.ksustumo.org
An interdenominational ministry, STUMO helps students to experience God in a genuine way and to grow in that relationship during college and beyond. The ministry helps build leaders that will have a positive impact on their families, communities, country, and the world

Student Mobilization - Missouri State University
Kayla Eggering

www.mostatestumo.org
At Student Mobilization, our mission is 'to build laborers for Christ from the college campuses of the world.' Kayla currently serves on the campus of Missouri State University in Springfield, MO, evangelizing and investing spiritually in college students. College is such a crucial time in a person's life, and Kayla's heart is to see college students make decisions-both big and small-for the glory of God.

YWAM-KC
Rachel Ziebarth

Feeling called to missions while in graduate school, Rachel has a passion to fight Bible poverty in Asia. Using her wide missions experience, she is working on a 5 year plan to develop Biblical studies programs for countries in the 10/40 window.