All God's Children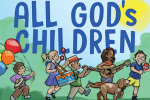 Fun music, laughs, and the gospel are the three key ingredients of a special event at Central THIS Saturday, February 16, from 2-3pm. Pastor Randy Mayfield will entertain little ones and their families with original music and timeless favorites alike.
Pastor Randy believes that having fun events specifically for children is very important. This concert, filled with fun music, is a great way to spend part of your Saturday as a family.
The concert is also free! All you need to bring is a stuffed animal and a blanket. We will have a fun time together as we sing songs like 'Mary Had a Little Lamb' as well as songs Pastor Randy himself wrote for kids!
A couple years ago, when spending time with his granddaughter, Pastor Randy was enjoying singing songs about what his granddaughter was doing. Watching her clean the house with her mom inspired Pastor Randy to write 'Helping Hands,' and listening to his granddaughter try to whistle inspired 'Just Whistle!'
One of the most popular kids' songs that Pastor Randy loves to sing is '2x2x2x2,' which he wrote over 30 years ago for his own kids when they were growing up!
If you would like more information on this concert, contact Pastor Randy ( or 314-727-2777). If you would like to learn more about any future concerts at Central, contact Matt Mazzoni ( or 314-727-2777) or visit our concerts page here.