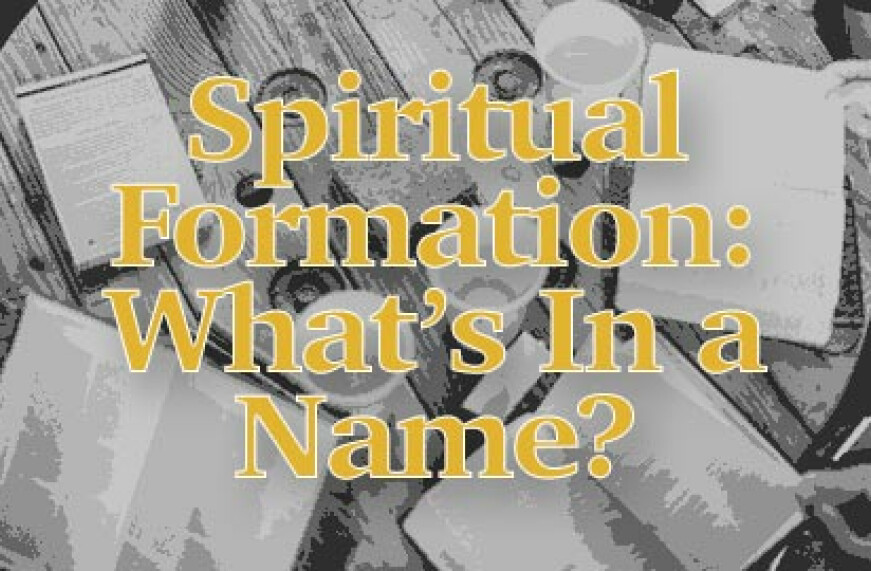 Last summer, my title changed from "Pastor of Worship and Arts" to "Pastor of Spiritual Formation." Since that time, some people at Central have asked me some very good questions about the meaning of my new title, and I want to share what I hope are some good answers.
The first question is this: "What does spiritual formation mean?" This is a shorthand phrase to describe the comprehensive work of God to make us the people that he created us to become. As our Creator, God formed the first human being (Gen. 2:7), and he formed each of us with the same exquisite care (Ps. 139:13–16). As our Savior, God is undoing all that is de-formed in us by sin and its cursed effects; he is re-forming us by con-forming or trans-forming us into the image of the Son (Rom. 8:29; 2 Cor. 3:18) by the power of his Spirit, not only in our souls but ultimately in our bodies as well (Phil. 3:21).
"Spiritual formation" is the ultimate purpose for everything that we do as a church. The goal of our church is not simply to enjoy stirring worship services or to engage one another in classes or small groups or to serve people in need in our city and around the world. God calls us to those practices of worship, community life, and outreach because they are the means by which we know and love God and through which God transforms us into a people who bear the image of the Son of God and manifest his likeness in our character and actions with increasing maturity and glory.
God's work in spiritual formation is a lifelong process of growth. Jesus is not only our sacrifice and priest but also our model, teacher, and guide, and he calls us to be disciples who follow him by submitting to his wise methods of training so that we can be like him (Luke 6:40). As Pastor of Spiritual Formation, my calling is to help our church to see the full vision of God's transformative plan for us and to pursue that vision by all the means and methods that God provides for our training in the way, the truth, and the life of God.
A second question often follows the first: "Isn't this what the church has often called discipleship?" Yes, it is. Spiritual formation is simply another term for the process of becoming a full disciple of Jesus. It describes the life and goal to which Jesus calls his followers and students (disciples).
And that answer leads naturally to a third: "Why would I choose the phrase "spiritual formation" for my title rather than 'Pastor of Discipleship'"? One reason is that the term "discipleship" has become strongly associated inside the church not simply with the overall process of spiritual formation but also with a particular means of pursuing it. For many people, the term "discipleship" brings to mind classrooms, curriculum, and structured mentoring relationships in which older, knowledgeable Christians teach the basics of the Christian faith to people who are younger or less experienced. While those are forms that accomplish some aspects of discipleship, the process of becoming a mature disciple of Jesus—the process of spiritual formation—involves far more than that. Indeed, the most focused forms of spiritual formation do not occur in classes but rather in coffee shops and around dinner tables, in phone calls and emails, in service projects and daily work, and in spiritual conversations saturated in the word of God and prayer shared by close Christian friends. The revelation of Jesus' life and ministry in the Gospels shows us clearly that his means of grace and his methods of training and forming us go far beyond anything we can experience in a classroom, a sermon, a lecture, or a workbook.
A second reason why I prefer the phrase "spiritual formation" is that it has the potential to connect with people outside the church. The word "discipleship" is a very churchy word; one almost never hears the words "disciple" and "discipleship" used outside Christian circles. While those terms are fine for communication between Christians, the terms "spiritual" and "spirituality" are widely used in American culture to talk about religious beliefs, longings, and practices. Therefore, referring to the ministry of the church as "spiritual formation" establishes a common ground for communication by using language that many people already use to label their most ultimate concerns and commitments. One of the fastest growing categories of religious life in America is the set of people who call themselves "spiritual, but not religious." Thus, naming the ministry of Jesus as "spiritual formation" presents Christ as the fulfillment of our deepest questions and longings in language that is already culturally familiar.
For some additional resources for understanding spiritual formation, see Dallas Willard, "Spiritual Formation as a Natural Part of Salvation," and his books The Divine Conspiracy: Rediscovering Our Hidden Life in God and Renovation of the Heart: Putting on the Character of Christ.