Is it "safe" to follow Jesus?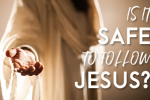 People often ask me when I'm traveling to certain parts of the world, "Is it safe?" I've travelled to more than 95 countries around the world, and I can assure you many places are not what I would call "safe," especially if you're in the wrong place at the wrong time. That includes the good old USA, and even right here in St. Louis!
So my response to the question "Is it safe?" is that I believe the safest place for me to be is in the center of God's will, right where God wants me to be. It has little to do with my personal physical safety, but I trust that God is in control. I simply need to follow his call and go where he leads me.
Jesus never promised security or safety in this world. As a matter of fact, he said quite the opposite. In 2 Timothy 3:12 we're reminded, "Indeed, all who desire to live a godly life in Christ Jesus will be persecuted." In John 15:20 Jesus says, "A servant is not greater than his master. If they persecuted me, they will also persecute you."
"Hey, that's not what they taught me in Sunday school! I heard that Jesus loves me and he'll protect me." It's not that you won't face problems or persecution in this world, as we saw in 2 Timothy and John 15 above. But Jesus does love you, and he will protect you. That's what the cross was all about. He loved you so much that he gave his life for you, and those who trust and believe in him are protected from eternal separation from God.
I have to trust that: "the steadfast love of the Lord is better than life!,"
"losing my life is saving it," "I must suffer with him if I would be glorified with him," and "everything in this world is as nothing compared to the surpassing value of knowing Christ Jesus my Lord!"
You may remember the words in C. S. Lewis' great book The Chronicles of Narnia. Lucy had asked Mrs. Beaver if Aslan, the lion who symbolizes Jesus, is safe. Mrs. Beaver's reply was, "Safe? . . . Who said anything about being safe? 'Course he isn't safe. But he's good. He's the King, I tell you."
The comfort in all of this is that God is good! Scripture tells us over and over again about the goodness of God. When I don't understand, agree with, or even see what he's doing, I can know that Romans 8:28 is true. God IS good and "in all things God works for the good of those who love him."
Jesus said, "If anyone would come after me [be my disciple], let him deny himself and take up his cross daily and follow me." (Luke 9:23)
We trust in Jesus our King, the Lion of Judah, who gave all for us so that we might live for Him! Don't worry about being "safe," but instead trust him and be obedient
Blessings,
Pastor Randy