It's Not Complicated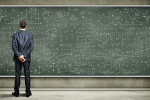 I wasn't "burnt out." "Burnout" was two weeks ago. I was dead.

I crawled up the stairs of a drop-in center for homeless youth in Spokane, Washington. I'd spent six months climbing those steps. Six months investing in the lives of homeless youth. Six months walking meals around the city in a backpack.

But it didn't matter. Every week was the same: drive downtown, pray for 20 minutes, open the doors of the center (or go out on the streets if it was Friday), meet students, introduce myself to students, reintroduce myself to students who didn't remember my name, talk about surface-level things, pray, repeat.

After six months of feeling like a cog in the wheel I was done. What was the point of making the trek if no one was going to remember I was there? I told a fellow staff member (who had quit his job as a computer programmer to work full-time with homeless students) that I didn't think the ministry and I were a great fit, and that I'd be finishing within the month.

He asked me why. I vented. I told him I wasn't developing any significant relationships with our students. I told him every conversation felt the same. I told him I wasn't making an impact, and that it didn't matter what I did.

He waited until I was done, then dropped the truth: "It doesn't matter what you do."

This wasn't encouraging. He continued: "These kids aren't really listening to what you have to say. They've heard it already. They're looking to see if you show up next week."

And then?

"And then they're looking to see if you show up the week after that."

Finally, I got it.

We scribbled a new motto on our staff room wall:"90% of what we do is showing up." Long story short, I showed up. And God showed up. Four years later, I left the place with a heavy heart when God called me in a different direction. I said goodbye to the students I'd come to know and love. Students who knew and loved me. Students who taught me as much about God as I taught them. Students who taught me the secret to youth ministry:

Show up. And then, tomorrow, do it again.