Updates to Online Worship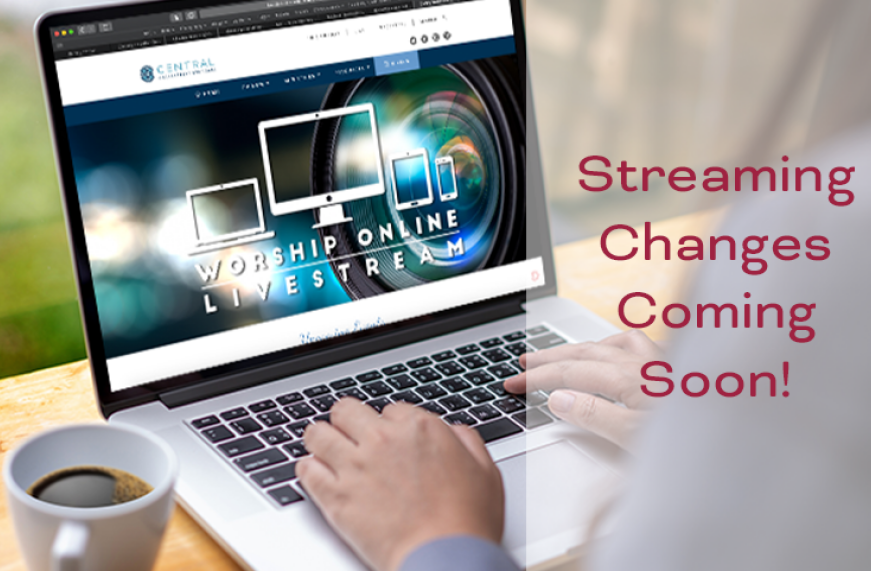 The availability of Central's worship services online has been a valuable resource for several years now. It not only allows those unable to be present on Sunday mornings an opportunity to worship with us "live" online, but also can be an uplifting and encouraging mid-week blessing, available anytime and anyplace you have internet access.
Obviously, since March of this year the importance of providing the best viewing experience possible has increased significantly. While many people have reported how much they have really enjoyed our livestream, there is always room for improvement. There are no guarantees of course - there are simply too many variables involved well outside of our control - but our goal is to make every viewer feel welcomed, appreciated, and engaged with worship.
To this end, by the end of June we will be transitioning to a new streaming partner, moving from the Livestream platform to Vimeo. Last week we simulcast on both platforms, and it was very successful. We will be doing the same thing this week, and by July plan to fully transition to Vimeo.
So, what does this mean for you?
If you currently view Central's worship services on our website, you DO NOT need to make any changes. Our services will remain accessible at www.centralpres.com/live.


If you prefer joining us on Facebook Live, you DO NOT need to make any changes. We will continue to simulcast to Facebook from Vimeo, just as we are now from Livestream.


If you are currently using the Livestream app (on your phone, tablet, or smart t.v.), you

WILL NEED

to download the Vimeo app. By the end of June, our services will no longer be aired live on Livestream.


If you currently access past services/sermons on via our website, you DO NOT need to make any changes. The links will be redirected to our new Vimeo archive.


If you currently access past services by going directly to Livestream, you will need to update your links/bookmarks to go to Vimeo. More information will be shared about this as we get deeper into the transition.
In the coming weeks, Central will also be launching our own YouTube channel. Did you know YouTube is the second most popular website in the world? While Vimeo will be our primary video archive, containing all our our video content, we will simulcast our full worship services to YouTube, as well as share out some of our other video content such as daily devotionals, sermon excerpts, etc. Watch for more info coming out later this month about this exciting addition.
We are confident this transition will make Central's worship services even more accessible than they are now, and also provide our viewers with a better overall experience. There are numerous "behind the scenes" benefits as well as some new features that will be rolled out over time for our viewers as well. Thanks in advance for your patience during this time of transition. Should you have any questions or concerns, please don't hesitate to send us an email.