At Central, Team Family – our staff, volunteers, and parents – work together to shepherd children and students in living out their identity as members of the Body of Christ through:
Intentional discipleship
Persistent prayer
Sincere community-building
Sacrificial missions
Christ-exalting worship
From early childhood to senior high school, we strive to intentionally disciple our youth through weekly programming, annual retreats, special events, and important cultural and spiritual milestones.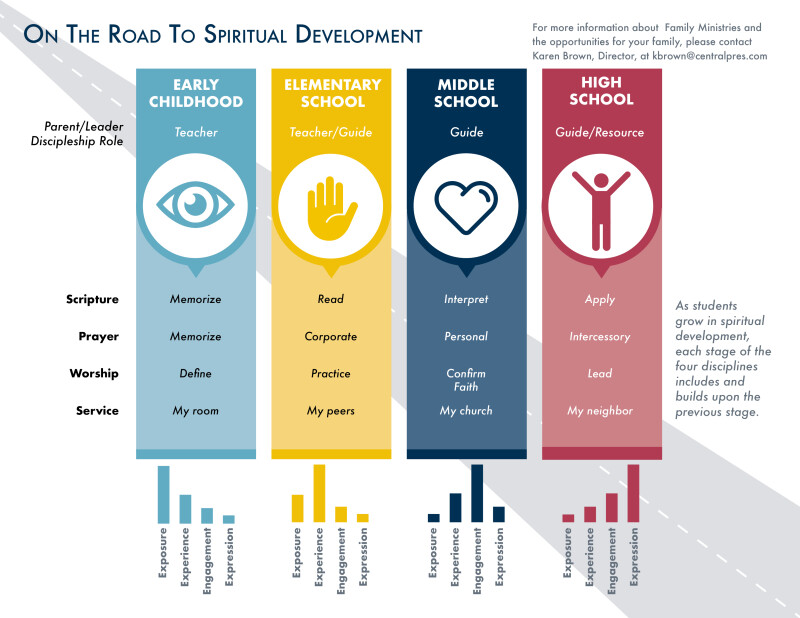 First, please notice the icons in each column: EYE, HAND, HEART, BODY. These, along with the bar graphs at the bottom, represent a main focus that anchors our programming for that developmental stage:
EARLY CHILDHOOD: EXPOSURE.
The driving question for this age is: Am I safe? Our goal for this age is to expose them to our trustworthy God over and over, through stories and song. Even the simplest exposures serve as "building blocks" for more complex learning later. The parent/leader role at this stage is teacher.
ELEMENTARY: EXPERIENCE.
The driving question for this age is: Am I capable? Our goal for the elementary ages (Kdg-5th grade) is to give them opportunities to experience prayer, worship, service and reading scripture on their own. These experiences develop confidence and a sense of belonging. The parent/leader role at this stage is mostly teacher, but usually shifts to a guide in the late elementary grades.
MIDDLE SCHOOL: ENGAGEMENT.
The driving question for this age is: Who am I? Our goal for grades 6-8 is to invite students into a more personal and transformative relationship with Christ; one that has the freedom to wrestle through hard questions about God, the world, and self, for the sake of moving head-knowledge about God into hearts. At this age, it's important to remember that personal engagement with scripture, prayer, worship, and service is non-linear, Spirit-led, and unique. Therefore, it's best for the parent/leader role to shift away from teacher and toward guide at this stage.
HIGH SCHOOL: EXPRESSION.
The driving question for this age is: Where do I belong? Or What is my purpose? Our goal for this stage is to provide opportunities for high school students to discover and develop their gifts, and then use them to express their faith. This expression helps them find their place among God's people and in God's Kingdom work. To encourage authentic expression, the parent/leader role at this stage shifts from guide to coach.
This Spiritual Formation road of Exposure, Experience, Engagement, and Expression has four lanes, or disciplines, which we use to drive weekly programming for all ages: SCRIPTURE, PRAYER, WORSHIP, and SERVICE. Each of these builds upon the work of the previous stage, but never abandons it. For example, scripture memory starts in preschool, and is combined with scripture reading in the elementary years, and so on.
So what does this look like on Sunday mornings or at youth group? It might look like a game of Bible memory golf or finally admitting your struggles. You are capable and safe here. It's adding your voice to the Doxology and praying in the hallway with a friend. You belong. It's discovering your gifts and the joy of self-sacrifice. You are an image-bearer and you were made for this.

Most importantly, it's remembering that this road is for kids of all ages and never ends. May this year be one of joyful growth and transformation for all of us.
---
More from Our Blog