25 Things To Do When You Can't Leave Home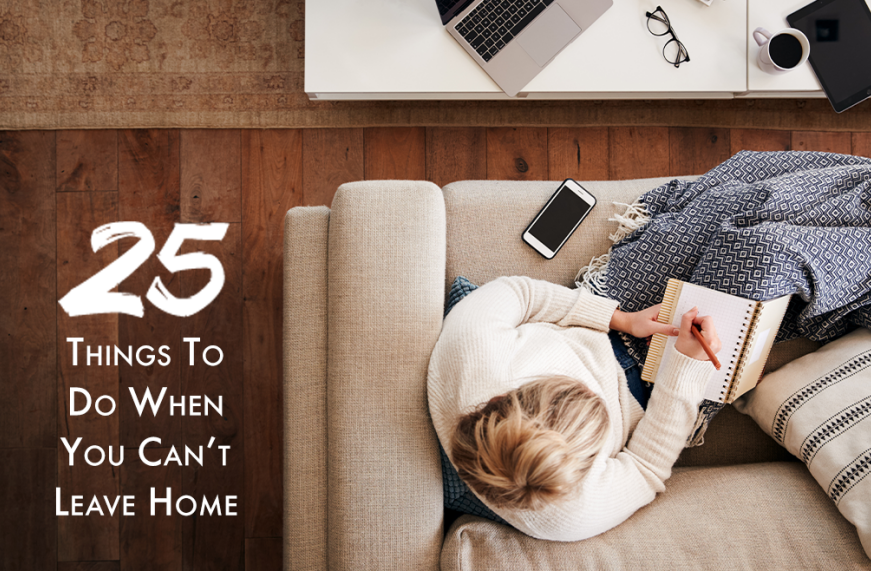 Invite your extended family onto a FaceTime, Zoom, WebEx, Skype, etc call. By now many of us are "Zoomed out" but for others in your family, it may be a totally new experience. It can be really fun to get multiple generations on a video call together, and just seeing each others' faces can be very encouraging.

Start (or restart) a Bible reading plan. There are many great plans our there already that will guide you through topical studies, deep-dives into specific books of the Bible, or lead you through an annual reading plan. The website www.bible.com is one resource, or if you would like some assistance in choosing a plan, our pastors would love to help you.



Support local businesses. Buy a gift card. Order carry-out. Support them on social media. Many local businesses are being super creative in finding ways to keep their doors open and their employees paid. Reward their efforts with your patronage. 



Redo your space. Working from home may be totally new for you. Chances are by now the newness has worn off, and with it, the fun and adventure are gone. Make your workspace more inviting with a coat of paint, a new desk lamp, or maybe a new wall hanging. Simply rearrange the furniture. Making your space more comfortable and enjoyable can make a world of difference.



Learn something new. Download Duolingo or Rosetta Stone and start learning a new language. That guitar in your closet gathering dust? Now is a great time to use YouTube to learn a few chords. Chances are your phone has a terrific camera built in. Use that to experiment with photos of your garden, kids, or family pet. Paint, build, write…the options are endless.



Embrace rest. This can be the hardest "new" thing for many of us. Intentionally schedule some time in your day where you can enjoy some quiet. For you, maybe it's just going to bed a little earlier or sleeping a little later. Set firm boundaries on your work and protect your "me time."



Play board games. It may sound old fashioned, but gathering around a game board can be a wonderful environment for conversation and laughter. Stuck at home by yourself? Get some friends together on a video call and play virtually. Brace yourself for the hilarity that can ensue.

Read that (those?) books you've been meaning to get though. Many of us have more than a couple books that people have recommended to us but we just haven't read yet. After you have done read them, it's a great reason to reach out to that person and get caught up.



Likewise, there are probably some movies people have been saying you "have" to watch. Give them a try!



Begin journaling, or create a blog or vlog. No one has to ever read it except you, so just begin the practice of getting your thoughts down. It can be incredibly therapeutic. 



Encourage a missionary. Central supports many missionaries locally and around the world. You can find a list here. Regardless of where they live, they are dealing with the impact of the coronavirus too. Send an email and let them know you are praying for them.



Listen to more music. Spotify, Apple Music, Amazon, and other sources offer vast libraries of music no matter what your preference might be. Rediscover some old faves from your teen years or give a listen to something new. Many artists are also doing live performances from their kitchens, living rooms, or home studios that are broadcast on social media. You can also check out some past Central concerts on our Vimeo page!



Clean out a closet. Talk about therapy! One method is to take ALL of your clothes out, and if you haven't worn an item in the past six months/year/"whatever time frame you choose," it doesn't go back into your closet. Donate those items you no longer wear to a local charity.



Exercise. Walk your dog around the block. Look up a "couch to 5K" program online and give running a try. Planet Fitness and some other gyms are offering no-cost, equipment-free workouts online. Set a new steps goal on your smart watch. Download a new fitness app. Just remember it's not a competition, the goal is to just move more so be kind to yourself.



Go camping. In the backyard or basement, kids always love sleeping in a tent.



Reach out to one different person each day. Send an email. Mail a hand-written note. Call or FaceTime them. You don't have to have a long conversation. Just a simple, unexpected "hi, how are you?" can make someone's entire week.



Start a devotional. There are SO MANY great devotionals out there. If you aren't sure where to begin or how to choose one, ask a friend or Central's pastors would love to help. You can also check out the daily devotional videos the church has been sending out. If you haven't been receiving a daily email about these, let us know!



Find a way to serve someone else. Even with the current stay-at-home orders in effect, there are still plenty of opportunities to help others. Donate to a local food bank. Pick up groceries (if you feel comfortable going out) for your neighbor, or just move their newspaper from driveway to their front porch. Make masks and donate them. You don't have to put yourself at risk in order to bless others.



Discover podcasts. These can be great companions for your walks. Whether you want to be entertained or learn something new, there are many great podcasts available on just about any topic you might be interested in.



Really talk with your family/friends more. Remove distractions. Ask questions. Learn something new about them. Share some of your favorite memories or stories from childhood. Need help? A quick online search for conversation starters will give you plenty of great ideas.



Ask for help. This can be even harder than resting, but it doesn't have to be. Don't hesitate to reach out to the church or those around you if you are struggling. Maybe it's something as simple as needing to get your grass cut, or something much more serious you are dealing with. Regardless, you are loved and help is available.



Fix something. Sew some buttons back on or clean out that junk drawer. Organize files on your computer. Even improving a small thing can make a big difference.



Look for beauty. Spring is here, and the flowers and trees are starting to bloom. Take a walk (even in your own yard) and look for the beauty of what God has created. If the weather is bad, research your favorite artist or photographer (or discover a new one!) online.



Practice gratitude. There are so many reasons for frustration and even fear right now. Begin the practice of noting what you are grateful for each day. Keep a log or journal, and offer praise for how the Lord has blessed you, even in these difficult times.



Pray. The more we pray, the closer we grow towards God. Take time to lament, praise, repent, petition, and just be in his presence. Pray through scripture. Pray during your regular daily rhythms. Central's daily prayer guides can be a great starting point if you need help building a routine.